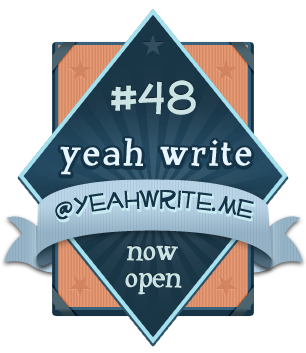 Saturday night was my friend/coworker Jaime's birthday party at Circle Lounge in Salt Lake. First off, I was deceived by the name. I thought "lounge" meant that there might be a place to sit. FYI, this was not the case.
Now, I haven't been to a club/bar/lounge in at least a year and a half, and I haven't been legitimately single for seven years. It's not exactly my scene. Husband came with me (thank God!) and he promised not to drink so he could drive. I got all dressed up, even bought a new shirt for the event (SO cute, wish I'd gotten a picture. Next time.)
While we were looking for a parking space (Downtown Salt Lake City on a Saturday night? Forget it) I told Husband to just give up and pay for parking.
"No," he said, "There's always someone leaving."
I said, "It's only ten thirty! No one is going to leave a club at ten thirty."
"Just wait," he said, looking at me sideways. "Some girl's boyfriend will kiss her best friend and she'll run out of there crying, opening up one of these spots."
So we circled the block three or four times until, sure enough, a couple of girls were leaving, opening up the perfect parking spot. In we went,
Leaving the car Husband said, "Do you need me to hold your ID in my wallet?" I said, "No, I'm going to take my purse inside." He looked at me crazy and I added, "For lipstick and wallet and stuff."
Thus making me the Old Lady in the club. It hadn't occurred to me that I would already be one of the oldest people there, but in addition to that it was standing (bumping) room only. Guess how convenient it was to have my purse in there? Yeah. I felt like I was carrying a diaper bag around all night. Even though I was more covered-up than every girl there, I felt like everyone could practically SEE my c-section scars like a label on my forehead: "I'M A MOM; I SHOULDN'T BE HERE."
Before we left the house, Husband asked me, "Is it going to be a meat market?"
I thought,
isn't that what clubbing is all about? Aren't they all that way?
This was, by definition, a MEAT MARKET. It was like men were walking up, examining the livestock, and leading the drunk women away to be slaughtered. (Yes, I'm aware this makes me sound even OLDER. I don't care; that's what it is.) I said (yelled) to Husband, "every guy here looks exactly the same, except some of them are blond." He replied perfectly with, "I blame
Jersey Shore
." YES. Exactly.
After some time and a few of my friends arrived, I got a bit more comfortable, but upon entering the women's restroom, I found a whole new arena. There were at least eight girls in a 2-stall bathroom, all with hair bigger than Snookie. They looked like real-life Bratz dolls.
I heard a conversation like this:
"Yeah! He shoved me, so I punched him in the face!"
"OMG"
"I know, right?! I am not putting up with that, so I just punched him right in the face."
"You did the right thing."
"I know. Let's go find him."
Another conversation, while washing my hands (couldn't possibly get clean enough after touching those doors), "Ok girls, I'm ready. Let's go find us some American men cause we are hot Mexican ladies."
Seriously. I'm not making this stuff up.
One more trip to the bathroom, much later in the night, and this is my favorite:
"No, really, he totally did that to me."
"Oh yeah? Well, my BEST friend slept with MY BOYFRIEND, while we were together. Take THAT!"
Yes, folks, this was a competition for trashiest experience with a man. She repeated that sentence several times before I escaped.
And by escaped, I mean forced my way back through the crowd of nearly-naked women and overly-gelled men. I watched guys try to grab boobs and reach hands into girls' dresses (if you can call them dresses), and I watched women throw themselves at men.
I heard a group of guys outside smoking; one guy said, "I know, like when I see a girl fall, and I'm all, 'you're drunk'!" Laughter. This same guy inevitably took one of those drunk girls home and won't ever talk to her again.
I don't think I have ever been so grateful to have my husband's hand to hold. He was able to lead me through crowds, help me pretend I could dance, and drive my friend Monica home safely when she was definitely unable to do so herself. He gave me Tylenol for my massive headache (do you know how LOUD those places are?!) and listened to me go on and on about the girls I saw in the bathroom.
I ended the night by pulling off my hooker-ish boots and telling Husband, "Please don't ever let me be single again. It's just awful."
Happy Valentine's Day, friends!